Problem

: Dating apps only focus on matching you with another person
Insight

: Partnerships are only as strong as the foundation that is made in the beginning
Solution

: A stronger foundation, a longer lasting relationship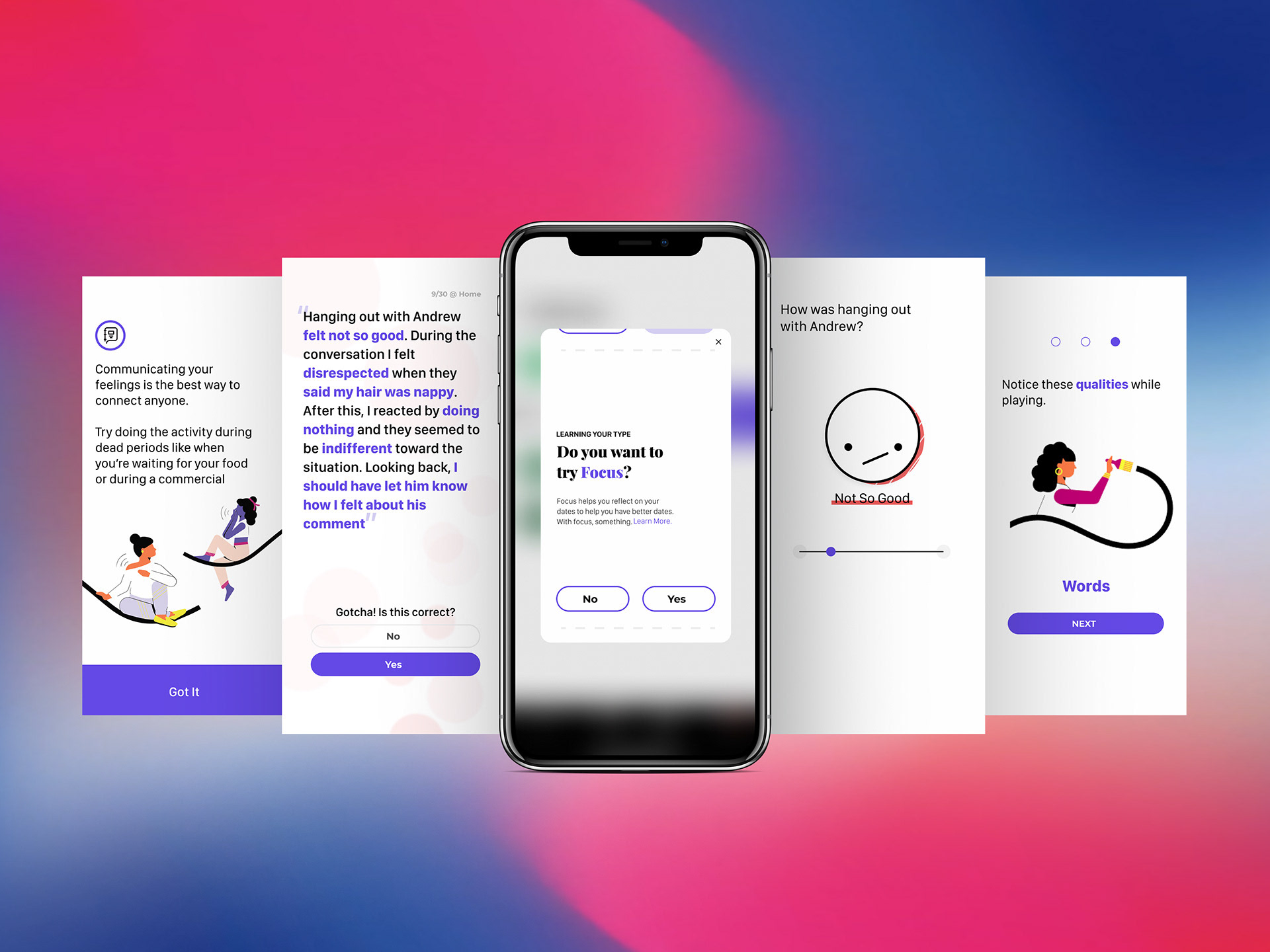 INTRODUCING HINGE'S FOCUS MODE
BRAND EXTENSION + UX / UI DESIGN
Most dating apps treat you as the expert, but at Hinge, we understand that dating is tough, and everyone could use a little help in navigating unclear situations. That's why we created Focus - a new system-wide integration that combines moments of guided reflection with resolution centered guidance to strengthen connections with people.
PART ONE
- GUIDED REFLECTION
After each in-person date with any match, members are prompted to reflect on their time spent with that person. Reflections serve to give the person a chance to dissect their time spent together while learning more about their own dating habits.
Each reflection follows a predetermined path but changes based on the context from the user's inputs during the reflection.
*This feature works using geo-location and location services.
*Below are examples of questions a member could get during their reflection and do not reflect the full flow. Prompts are determined based on user input.
VALIDATION & FEEDBACK
Members evaluate their overall time spent with a person and receive tips to help them throughout their dating journey.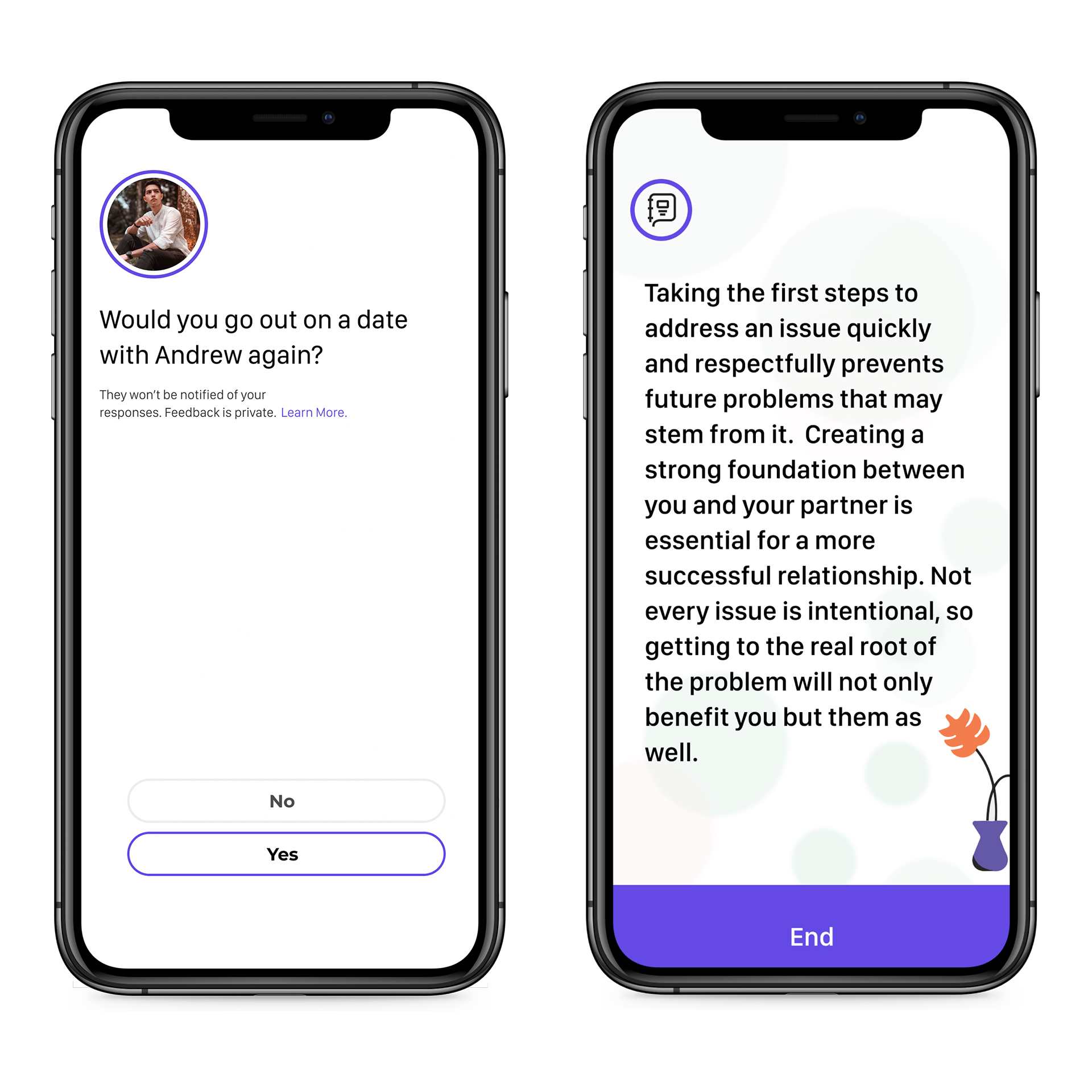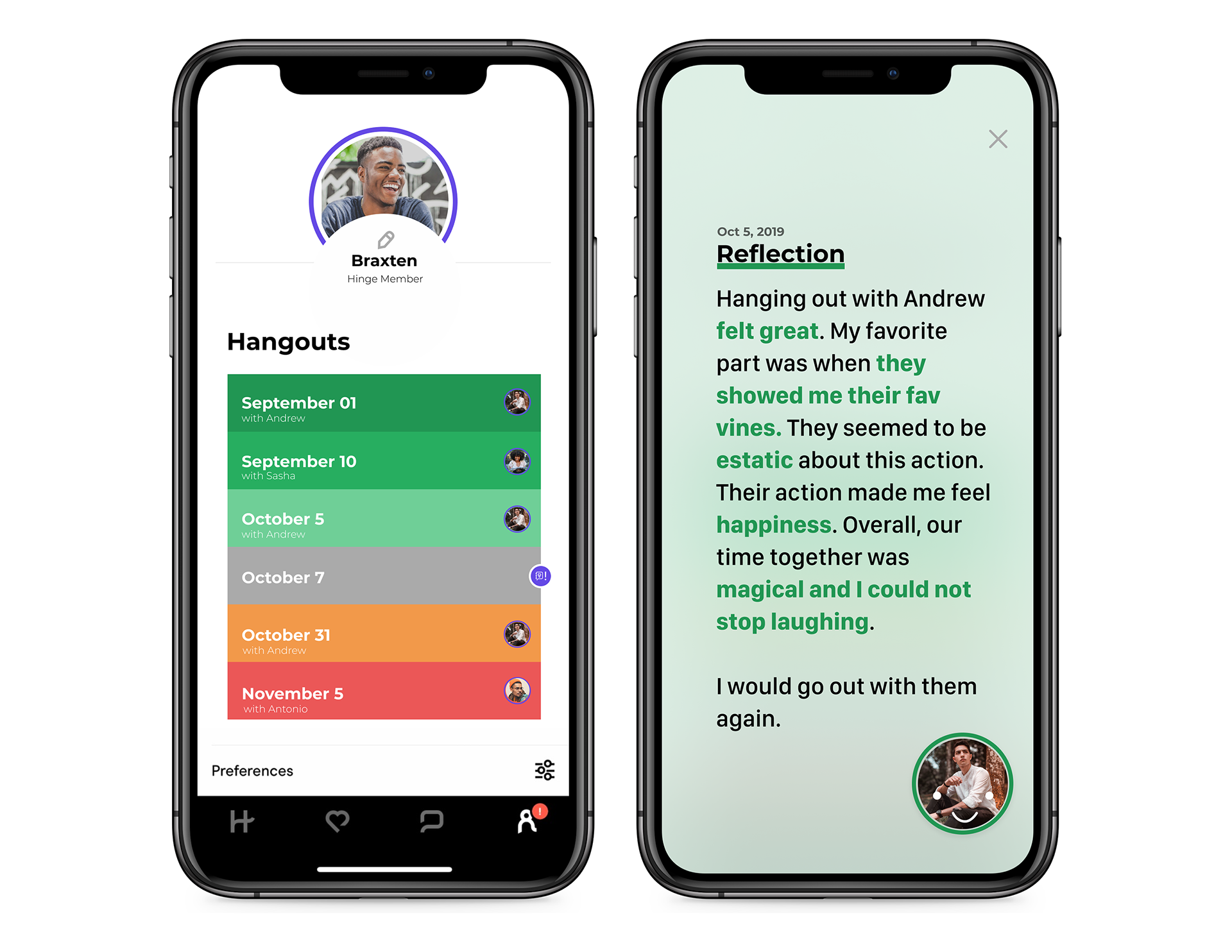 DATING LOG
Reflections are stored within the Dates Log (found on the account page). Stored reflections offer insight into daters' own dating experience. Over time, members can notice patterns and highlight qualities they actually look for in partners.
PART TWO
- SWITCHING TO FOCUS
When both singles decide to kick their relationship up a notch, they can commit to each other using Focus Mode. Focus Mode is an overhaul of the Hinge app that links the two accounts. In Focus Mode, users have a shared space that aggregates all of their time spent together and restricts all matchmaking features.
*Entering Focus Mode even changes the app's color to be more discreet.
*Focus Mode is limited to only two Hinge users at a time. This mode is not permanent and can be reversed if necessary.
GUIDED REFLECTION
Same as in regular mode, each person has the opportunity to complete a reflection after each hangout. However, in Focus Mode, both reflections are evaluated to look for patterns, differences, and similarities in the overall experience.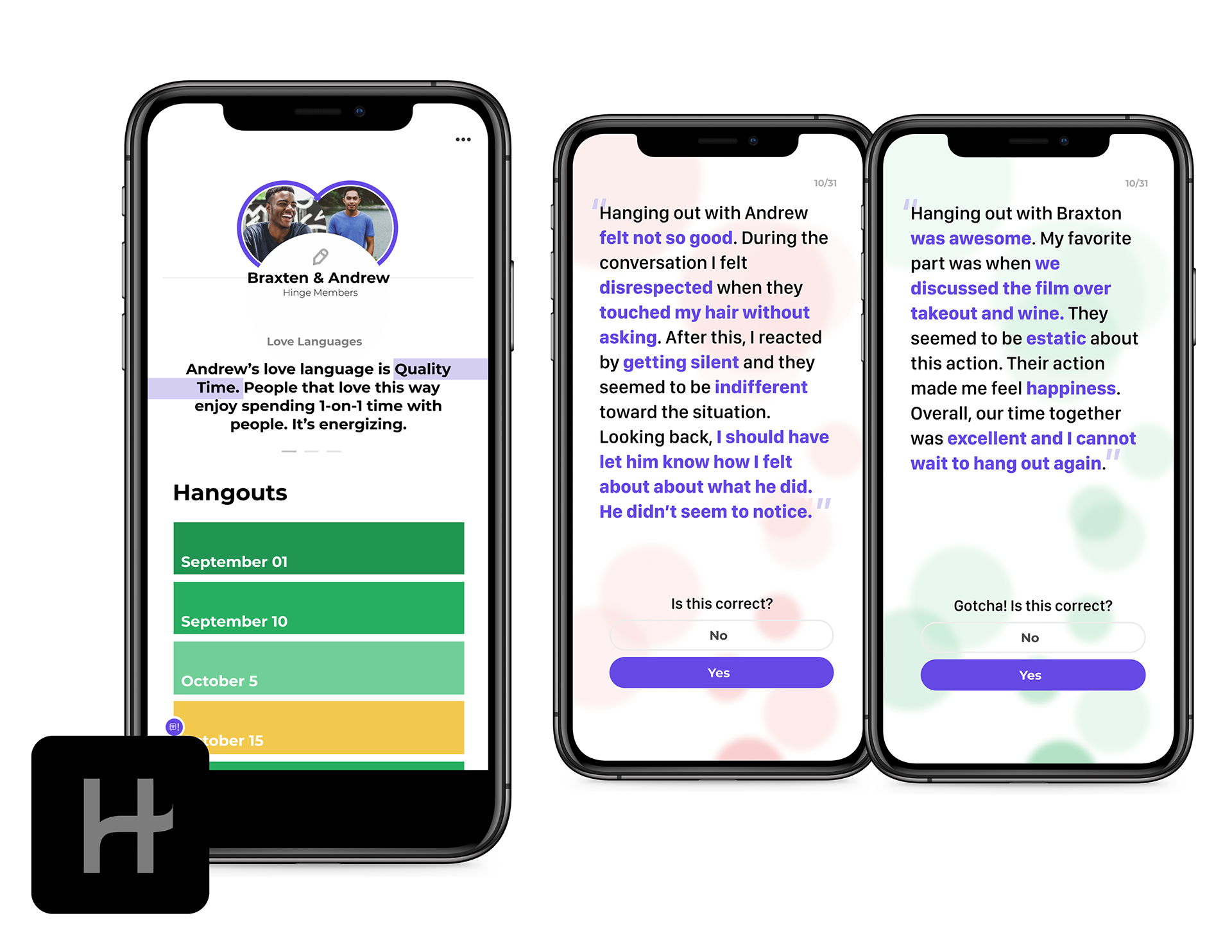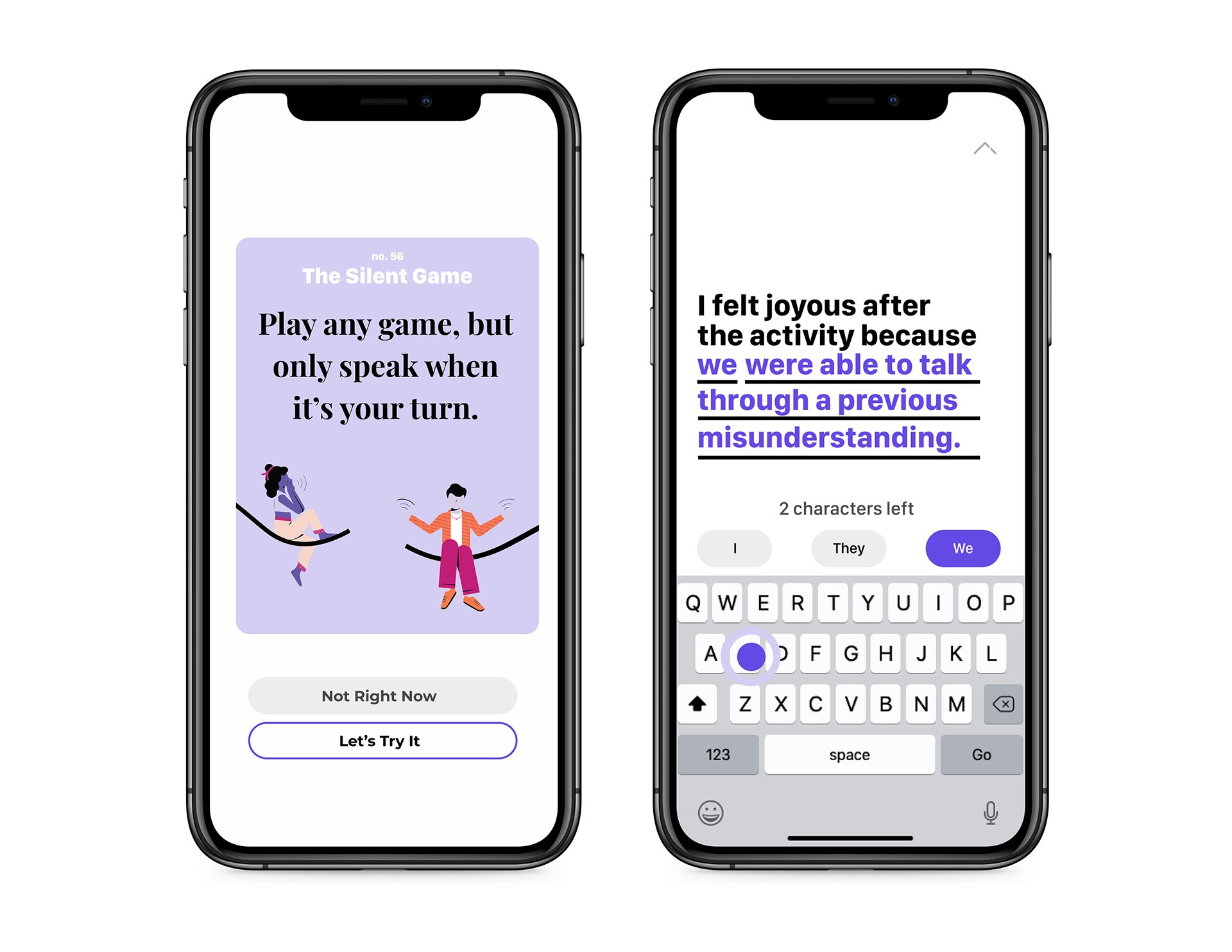 FOCUS ACTIVITIES
Focus Activities are a set resolution centered activities created by a team of trained relationship experts. Activities are designed to help partners connect deeper and/or overcome challenges in their relationships by creating the space to communicate before things potentially exacerbate. Different activities are suggested based on responses during the guided reflection.
DESIGNED TO BE DELETED, TOGETHER.
Hinge is designed to be deleted - and that mission remains the same. Once deleted, couples receive periodic check-ins from Hinge that provide support, reminders, and inspiration as the relationship continues to develop. Focus equips daters with the tools and knowledge to better understand themselves, their partner, and the realities of a new relationship, so they never have to focus on dating apps ever again.
MY ROLE:
Sociology minor at work
Concepting
Research
UX writing